HJT modules have emerged as a mainstream consideration for photovoltaic power plant selection, appearing in various scenarios such as rooftops, ground plant, and even offshore applications. Recently, at the 2nd Offshore New Energy Development Forum held in Jinan, China, Zhou Huaming, Deputy Director of Technology R&D Center at Huasun, provided a detailed introduction of Himalaya V-ocean HJT modules.
The pain points in offshore PV selection: Environmental and cost challenges
The scale-up of offshore solar PV projects faces two major challenges: the harsh offshore environment and high development costs. Therefore, there is a higher demand for modules that feature superior corrosion resistance and water vapor resistance, as well as for high power and high efficiency.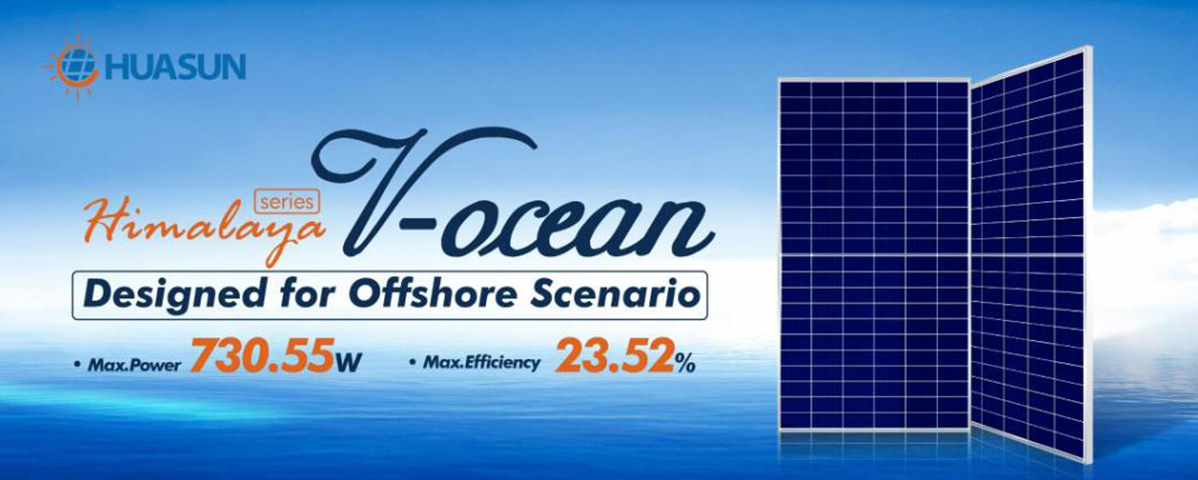 In response to the selection requirements for offshore PV projects, Himalaya V-ocean modules adopted 210 large-size HJT cells, with a maximum power output of 730.55W and a peak conversion efficiency of 23.52%. These modules have been optimized and upgraded in terms of materials and structures, including frames, encapsulants, glass, and junction boxes, to further enhance weather resistance.
Reliability of V-ocean: 10x Improvement in Water Vapor Resistance
The dual-glass and PIB edge sealing solution used in V-ocean modules is independently developed by Huasun and holds five invention patents. The double-layer coated glass exhibits stronger corrosion resistance, while the water permeability of PIB is less than 1% of that of silica gel. This perfect compatibility with glass, EVA, POE, and other encapsulation materials enables the V-ocean modules to achieve over 10 times improvement in water vapor resistance compared to traditional encapsulated modules.
The application of new materials such as light conversion film, electrophoretic composite film aluminum frames, along with the high-sealing design of junction box, further enhance the stability of modules.
Economic Benefits of V-ocean: 30% Increase in Return on Investment
The V-ocean modules offer significant economic advantages. In the first year, these modules achieve a 4.6% energy yield increase in wattage per unit compared to PERC modules. Additionally, due to the lower linear degradation of HJT modules, the total power generation gain over 25 years amounts to 5.7%.
Based on these calculations, installing V-ocean modules can reduce sea area usage by 8% and save 10% on support structure costs. This ultimately leads to a 7% reduction in balance of system (BOS) costs and levelized cost of electricity (LCOE), resulting in a 30% increase in return on investment (ROI).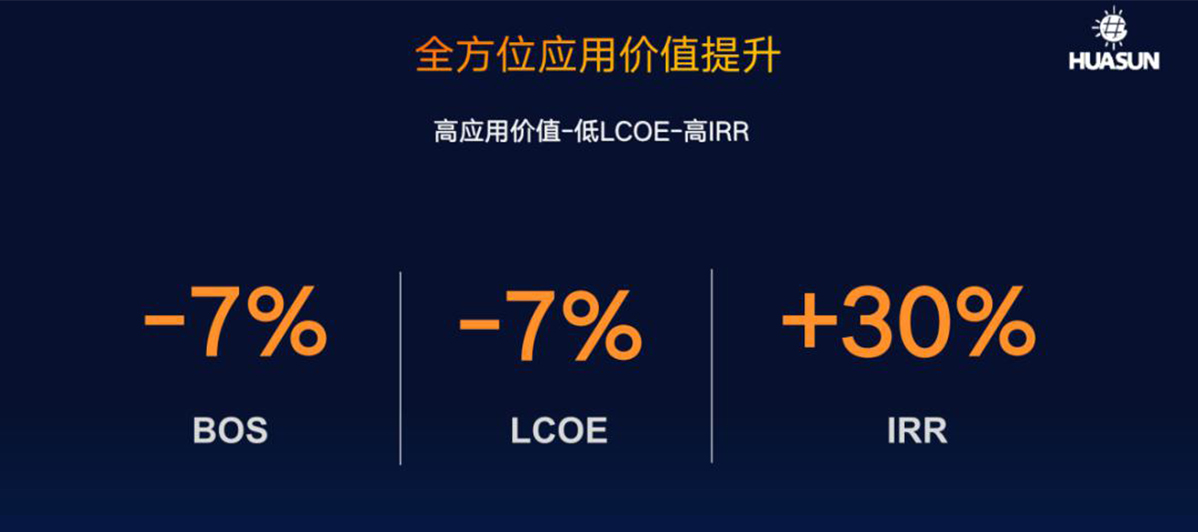 Furthermore, with continuous advancements in HJT technology, the wafer thickness of Huasun HJT modules will be reduced to 90μm. Combined with low temperature processes and simplified manufacturing process, these modules achieve high power output, high reliability, and showcase the environmentally friendly attributes.
As a global leader in HJT vertical integration products and solutions, Huasun will be committed to innovation, expanding the application of HJT technology in various scenarios and driving the thriving development of solar industry.