RE+ 2023, the premier clean energy event in North America, kicked off on September 12th at the Sands Expo and Convention Center in Las Vegas, USA. Huasun Energy, the world's largest vertically integrated heterojunction (HJT) solar product and solution provider, showcased the latest achievements in HJT technology and PV module industrialization to the North American market, and demonstrated a variety of Himalaya G10 and G12 series high-efficiency HJT photovoltaic modules, cells and wafers on the spot, attracting a large number of industry players during the tradeshow.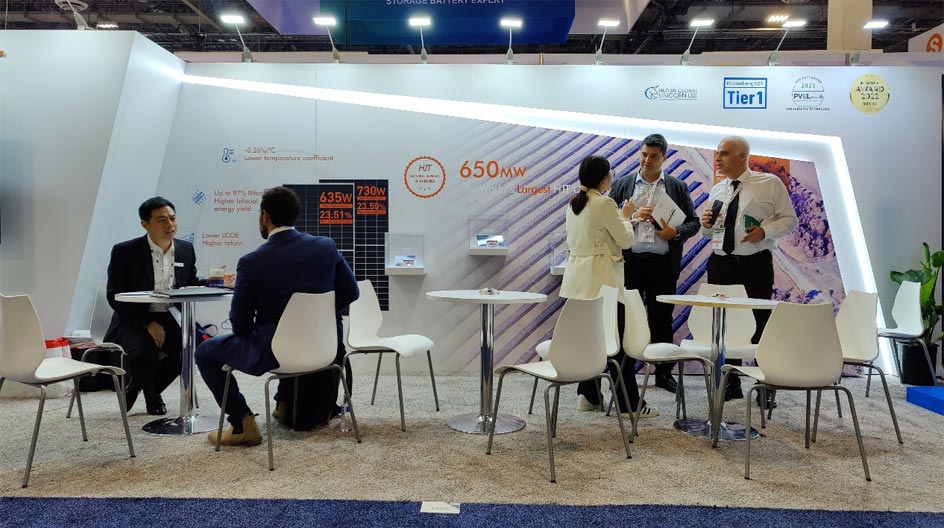 Driven by the incentives of the Inflation Reduction Act (IRA), a record 32GW of solar capacity is expected to be installed in the US this year, 53% more than that in 2022, according to SEIA's latest report. The report forecasts continued strong growth for the US solar industry, which is expected to double in size over the next five years.
RE+, formerly known as Solar Power International (SPI), is organized by the Smart Electric Power Alliance (SEPA) and the Solar Energy Industries Association (SEIA). The conference serves as a platform to educate professionals about advancements in the clean energy market. By introducing high-efficiency N-type HJT products, Huasun is ready to empower the new energy development in North America during its wonderful debut in the region.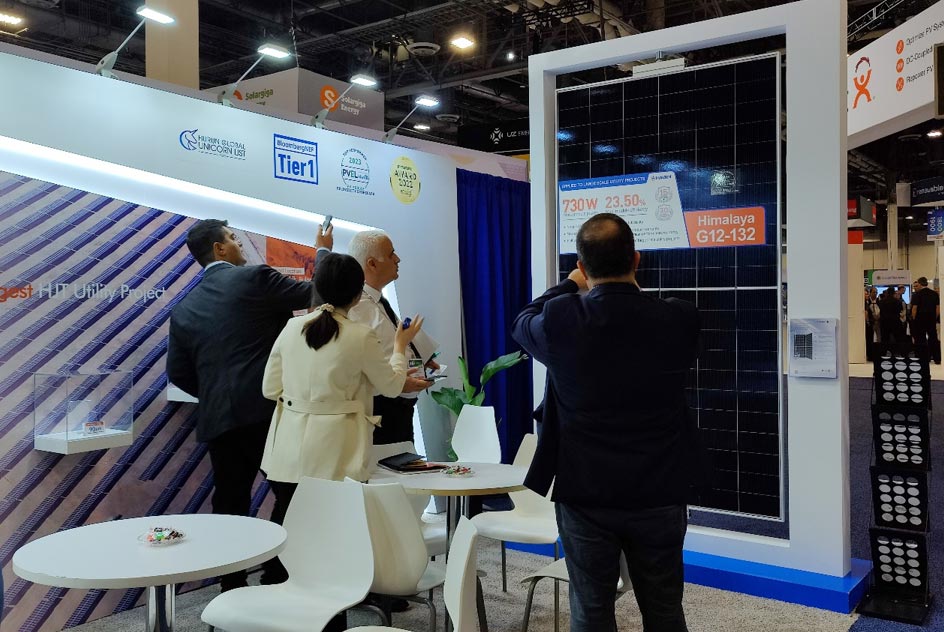 As Huasun's star product, Himalaya G12-132 HJT module attracted wide attention from the audience, and was highly recognized due to its excellent performance with a maximum power of 730W and efficiency of 23.5%. Featuring natural double-sided symmetric structure, high double-sided rate, low temperature coefficient, G12-132 can help reduce the cost of BOS by about 3% and LCOE by about 4% of the solar power project, which makes the investment return ratio increase by about 8% compared with conventional modules in the market.
Meanwhile, Huasun Himalaya G10 & G12 series of high-precision cells and wafers were unveiled at RE+. Since the beginning of wafer manufacturing, HJT products have performed quite well in increasing conversion efficiency, reducing project costs and carbon emissions, making them a perfect fit for the global solar market.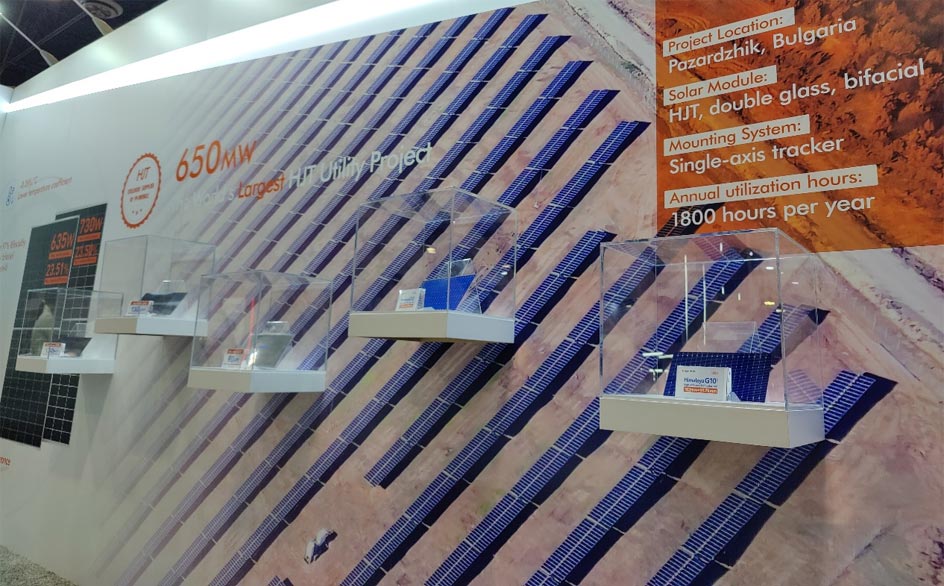 The first batch of 210mm heterojunction solar cells was successfully produced earlier this month in Huasun Dali base. With an average conversion efficiency of 25.23% and a peak of 25.69%, the cells once again set a record for Huasun's mass production HJT cell projects. Further cost savings will be achieved through optimization of HJT solar technology. Huasun is expected to achieve an average efficiency of 25.5% in mass production, setting a benchmark for heterojunction technology and the wider photovoltaic industry.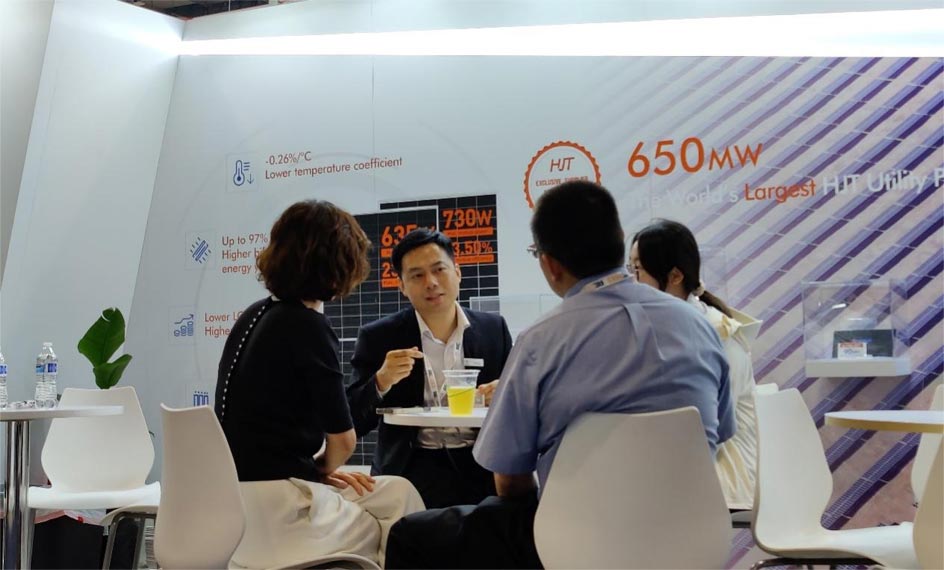 To further demonstrate the practice of HJT modules, Huasun team shared the use case of the world's largest 650WM heterojunction photovoltaic power project in Bulgaria with customers during RE+ Event. With excellent product performance, outstanding delivery speed and professional pre-sales and after-sales service, Huasun has become the exclusive module supplier of the project, which is partially grid-connected and running well. The excellent power generation capability of the HJT modules contributes greatly to the PV plant's annual utilization of 1800 hours.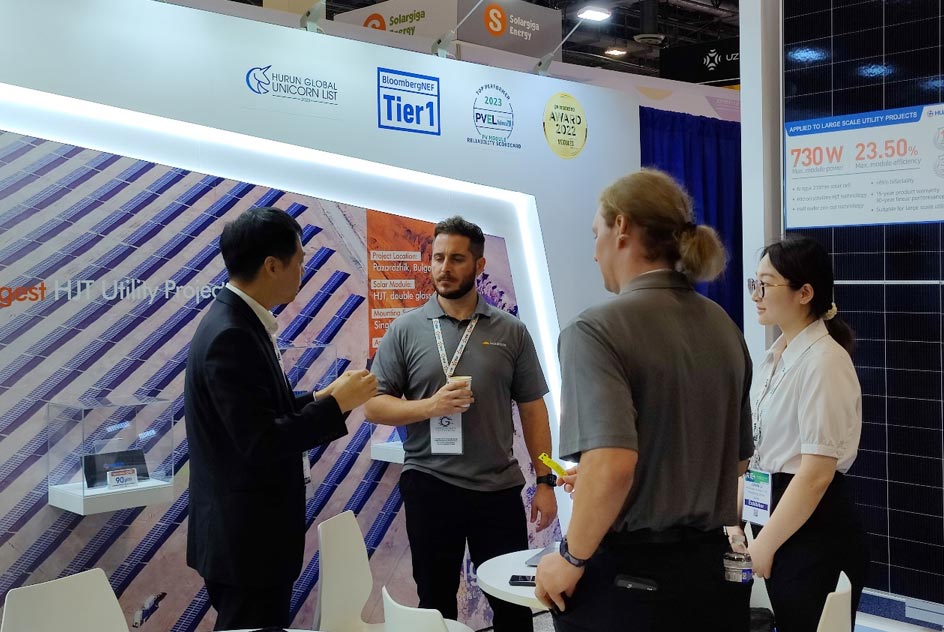 As the world's largest HJT solar product manufacturer, Huasun has actively embraced the overseas market and received good response. Since 2023, Huasun has participated in global events in the Middle East, Spain, Japan, Germany, Brazil and the United States, and will continuously present other key solar markets worldwide including UK, Bulgaria, Pakistan, Australia, and Indonesia.