Huasun Energy's Himalaya G12-132 bifacial double-glass HJT solar module demonstrates exceptional performance and reliability. With its high performance, Huasun has emerged as one of the 'Top Performers' based on data obtained from PVEL's Product Qualification Program (PQP) test.
In rigorous PQP test, six tests included in the 2023 publication are thermal cycling, damp heat, mechanical stress sequence, potential-induced degradation (PID), light-induced degradation (LID) + light and elevated temperature-induced degradation (LETID), and PAN performance, which plays a crucial role in assessing real-world performance by comparing modeled results to actual measurements within an accelerated lifetime test regime.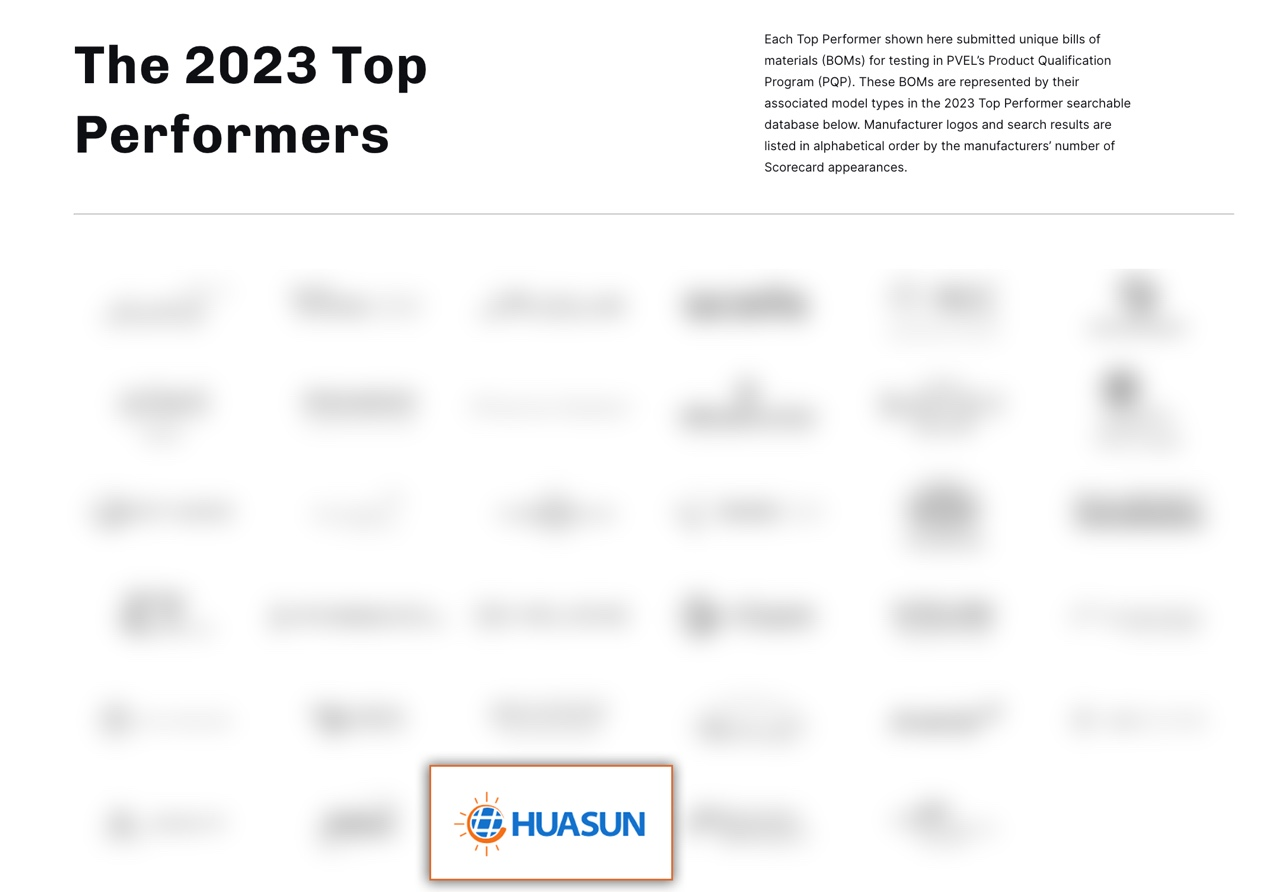 Notably, in terms of PAN Performance, which forecasts the system's alignment with energy yield predictions using industry-standard modeling software PVsyst, Huasun Energy's Himalaya G12-132 bifacial double-glass HJT solar module has achieved a top energy yield on simulated PV sites documented in PVEL's PAN reports.
Based on 'PVsyst Energy Yield Simulations' located in Las Vegas and Boston, Huasun's remarkable performance surpasses that of all the other module manufacturers in terms of specific energy yield. Especially in Las Vegas, the specific energy yield of Himalaya G12-132 modules is up to 80 kWh/kWp higher than other 'TOP Performers', increasing by 4% than most of modules (the vertical axis is the number of tested modules, and the horizontal axis is the specific energy yield simulations results using the PVsyst). This well-deserved recognition places Huasun among the 'Top Performers'.
Tristan Erion Lorico, Vice President of Marketing at PVEL, extends his congratulations to Huasun team for the outstanding performance of their modules in the PQP test. He highlights that the graph of specific energy yield shows an outlier with great results, which happens to be Huasun.
With this recognition, Huasun Energy leads the way in manufacturing reliable and high-quality modules. To date, Himalaya G12-132 module's maximum power is up to 730.55W, with the maximum efficiency of 23.52%. However, the work does not end here. Huasun remains dedicated to discovering new avenues for enhancing module efficiency, durability, and reliability to continuously increase energy yields.
About PV Evolution Labs (PVEL)
PVEL is the leading reliability and performance testing lab for downstream solar project developers, financiers, and asset owners around the world. PVEL and the Kiwa Group provide a suite of technical services for mitigating risk, optimizing financing, and improving system performance throughout the project lifecycle. For over a decade, PVEL's flagship Product Qualification Program has replaced assumptions about PV module performance with quantifiable metrics, and connected manufacturers with a global network of 400+ downstream partners. Learn how PVEL makes data matter though PQP testing, field services and market intelligence at pvel.com.
About Huasun Energy
Anhui Huasun Energy Co., Ltd. (hereinafter referred to as "Huasun") was founded in July 2020 in Xuancheng, China. Huasun is an innovative technological enterprise specializing in the development and production of ultra-high efficiency N-type silicon-based heterojunction (HJT) solar wafers, cells, and module technology as well as large-scale manufacturing. As the industrial pioneer of HJT, Huasun has delivered nearly 1.5GW HJT products to over 30 countries around the globe and ranks as the largest HJT manufacturer in the world, owning 5.1GW capacity of high-efficient HJT solar products. Huasun counts on an R&D team of more than 200 seasoned professionals to advance the research and development of high-efficient HJT technology, manufacture HJT products and provide clean energy solutions. Huasun strives to continuously improve the efficiency of solar cells and modules to achieve low-cost mass production of HJT products.
For more information, please visit www.huasunsolar.com.
Follow Huasun on LinkedIn.