On March 14, only 42 days after the whole production line moved into the factory, Huasun has succesfully completed the whole-line process tuning and started the mass production of its Phase III project in Xuancheng, which aims to realize 2.4GW capacity of double-sided micro-crystalline (i-HJT3.0) HJT cells. On the same day, the first batch of 182mm HJT cells were produced with the highest conversion efficiency exceeding 25%, setting another new record in terms of production speed and cell efficiency.
Xuancheng Phase III cell project is Huasun's first fully operational factory using i-HJT 3.0 technology, mainly producing 182mm HJT solar cells. Based on the mass production experience of single-sided micro-crystalline in Phase II project, every step of Phase III is nearly two months ahead of schedule, from project construction to the first batch of cells. Once again, "Huasun Speed" amazed the whole industry.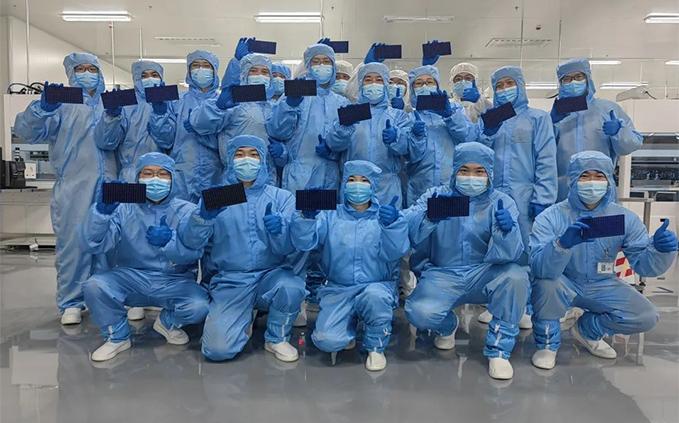 Jack Xiao, head of Huasun R&D dept., revealed that the efficiency of HJT cells which adopted i-HJT3.0 technology has reached 26.1% on the pilot line, and it has been certified by the China Metrology Institute. It is expected that the average efficiency of 182mm HJT cells will quickly be increased to over 25% in mass production by introducing i-HJT3.0 technology.
Huasun is the first company that achieved shipment of HJT products over 1GW in 2022, and now it is entering a even faster and larger development stage. In 2023, Huasun's production capacity is going to exceed 15GW! With the launch of 182mm HJT solar products, Huasun now owns a full HJT product family,,and can better serve different scenarios.