On October 17, Solar & Storage Live UK 2023 hold at the Birmingham International Convention Centre. Huasun Energy showcased dazzling solar products targeting for UK market, illuminating net-zero landscape of British Isles.
At Solar & Storage Live, Huasun showcased two typical representative modules: 730W G12-132 V-ocean module and 450W G10-108 HJT module. These two products are specially designed for UK offshore and distributed PV markets, offering a great feast for attendees from the UK and surrounding countries.
UK, surrounded by the sea and blessed with a rainy climate, is witnessing a surge in solar energy projects, particularly in the rooftop and utility-scale solar power plants. Huasun's 450W G10-108 modules, tailored for residential rooftops, feature N-type HJT 182mm solar cells, along with half-cut process and 18BB technology. This combination results in an impressive module efficiency of up to 23%, meeting the diverse needs for higher efficiency, higher returns, and aesthetic appeal.
As a global leader in offshore renewable energy, UK ranked as the world's second-largest offshore energy developer, only surpassed by China. Huasun's G12-132 V-ocean module is designed for harsh marine environment, addressing challenges such as water vapor, salt mist, and the turbulent marine storm. Huasun has comprehensively upgraded the module sealing technology, features with double-coated glass, electrophoretic composite frames, anodized film composite layers, and PIB encapsulation, to ensure product's long-term reliability and guarantee power generation under the harsh offshore weather.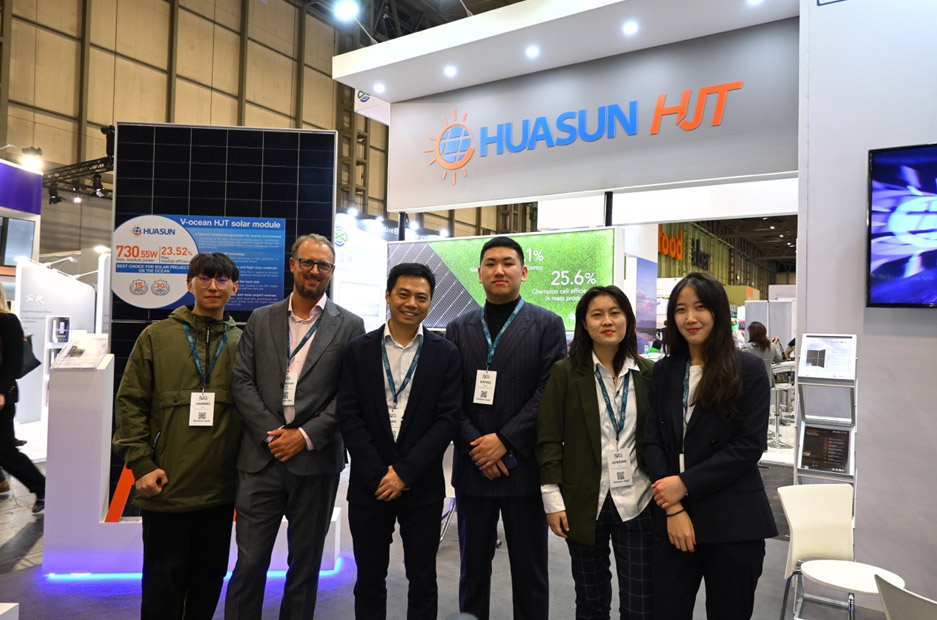 Criss Jin, Sales Director for Europe of Huasun Energy, stated, "The solar market in the UK is brimming with potential. In the future, Huasun will keep exploring to consistently enhance cell conversion efficiency and offer high-quality heterojunction (HJT) products and solutions."