On November 8th, Huasun Energy and Grow Energy, the renowned Thai EPC company, signed a framework agreement for providing 150MW heterojunction (HJT) modules in Bangkok. Jacky Chan, Director of Overseas Sales and Project Development at Huasun Energy, and Suttirote, General Manager of Grow Energy, signed a memorandum of understanding (MoU) on behalf of both parties.
In accordance with the MoU, Huasun is set to supply Grow Energy with 150MW of cutting-edge HJT modules. The objective is to deliver high-efficiency HJT products for Thailand's floating photovoltaic systems, ground power stations, and commercial distributed projects. This strategic partnership aims to enhance the overall power generation performance and investment returns for project stakeholders, contributing collaboratively to the advancement of clean energy facilities in Thailand. As the world's largest provider of vertically integrated HJT products and solutions, Huasun is fully committed to supporting Grow Energy comprehensively, encompassing areas such as order fulfillment, product quality, and pre-sales and after-sales services.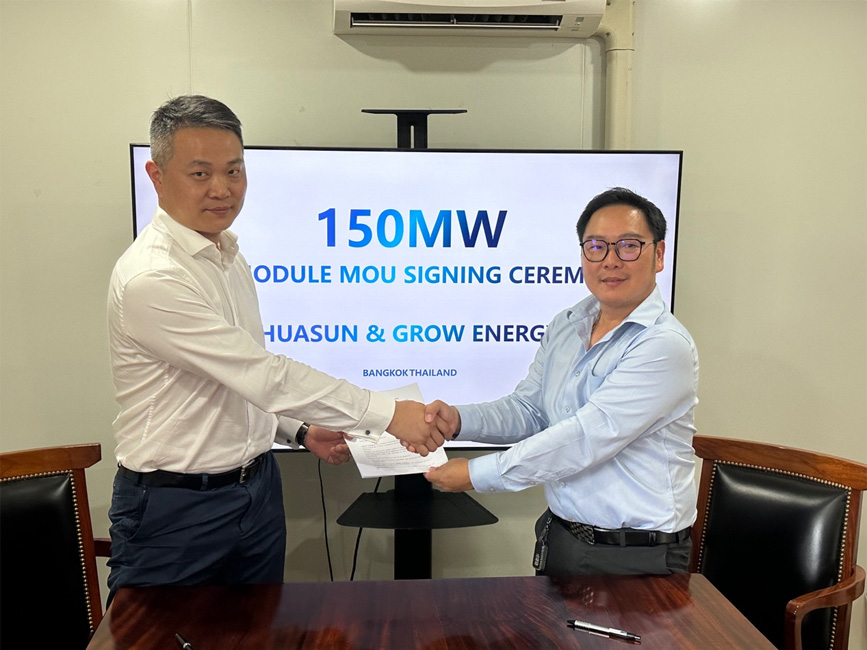 The project will exclusively utilize Huasun's independently developed high-efficiency bifacial HJT modules. Of the total capacity, 60MW will be allocated for the floating photovoltaic projects, while 90MW will be dedicated to ground power stations and the construction of distributed rooftop systems for industrial and commercial use. The project is set to break ground in 2024, and upon its successful completion, it will consistently deliver a green and clean power supply to the local area, positively impacting the regional economy, society, and environment.
The signing of the MoU reflects the comprehensive recognition by our Thai clients for the high power output, reliability, performance, and return of HJT products. As the pioneer of the world's first collaborative innovation platform for the industrialization of HJT technology, Huasun has taken the lead in introducing processes such as double-sided microcrystalline and silver-plated copper, possessing a full product power range and industry-leading product efficiency.
For instance, the Himalaya series G12-132 module, suitable for ground power stations, boasts a champion power output of 744.43W and a peak efficiency of 23.96%. Meanwhile, the Himalaya series G10-144 module, targeted at the distributed market, achieves a maximum power output of 600W, surpassing TOPCon mainstream power levels by approximately 20W. Huasun's average cell production efficiency is 25.4%, with the champion efficiency of 26.2% for 210mm cells, leading the development of N-type HJT modules in terms of high power, high efficiency, and high performance.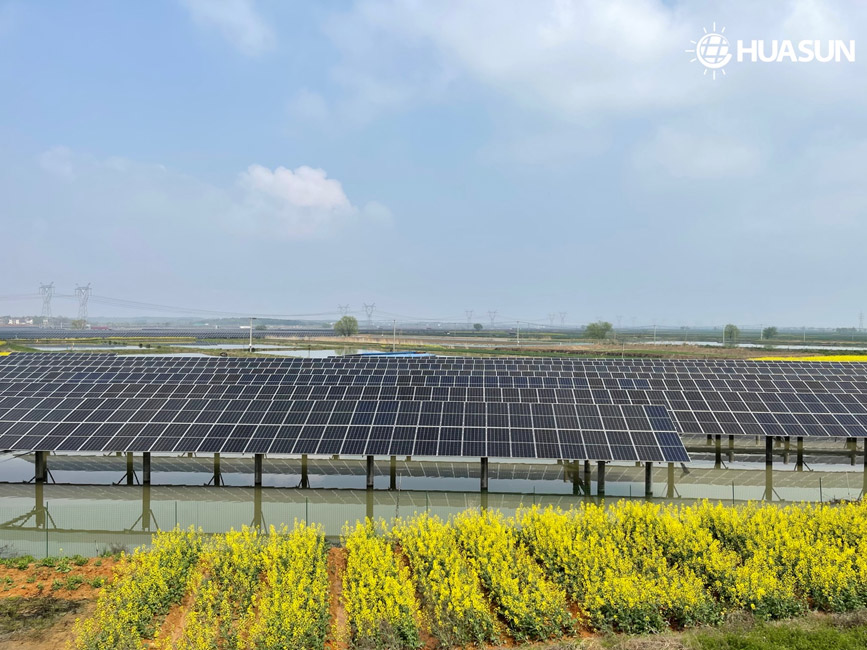 During the signing ceremony, Jacky showcased Huasun's technology and product advantages. He specifically highlighted various projects and testing cases. Huasun has previously achieved success in floating photovoltaic power station with the 23MW Fishery-Solar Hybrid Project in Anhui, China. In this venture, Huasun not only provided all heterojunction modules but also offered crucial technical support. The project delivers an annual average of 24.64 million kWh of clean electricity, contributing to a significant reduction of 24,600 tons of carbon dioxide emissions. Jacky remarked, "By outlining a clear cooperative roadmap and reaching agreements with Grow Energy, this marks an important step for both parties to deepen collaboration in clean energy."
Southeast Asia is the focus for Huasun's overseas market expansion this year. Countries such as Thailand, Philippines, Vietnam, Malaysia, and Indonesia, are showing increasing recognition for HJT products. In the strategic collaboration with Grow Energy, Huasun will leverage its advantages as a Bloomberg-tier component manufacturer to drive the development of the clean energy industry in Southeast Asia.