On March 17, PV EXPO 2023 came to a successful conclusion at TOKYO BIG SIGHT. As a leading company in HJT industry, Huasun displayed its latest technology and products at this event, which attracted plenty of attentions.
At the exhibition, Huasun displayed two types of HJT solar modules, Himalaya M6-120 all black lightweight HJT module and Himalaya G10-144 high-efficient HJT module, which are especially chosen for Japanese market. The brand new G10-144 series is based on HJT 3.0 technology. By adopting double-sided micro-crystalline technology and combining the small chamfer design, the cell efficiency and module power can be significantly improved. The module power range covers 580-600W, with the maximum efficiency of 23.23%, which is suitable for commercial rooftops and ground power station, beating other products in the same size upon the power output in the industry.
Himalaya M6-120 all black lightweight HJT module is equipped with 1.6mm ultra-thin glass, and weights only 19.5 kg. The all-black design makes appearance of the module more elegant and high-end, to meet the aesthetic needs of Japanes residential rooftop. The power range of the module is 380-400W, flexibly adapted to various roof shapes, to provide solar system with higher efficiency on the rooftops with limited space.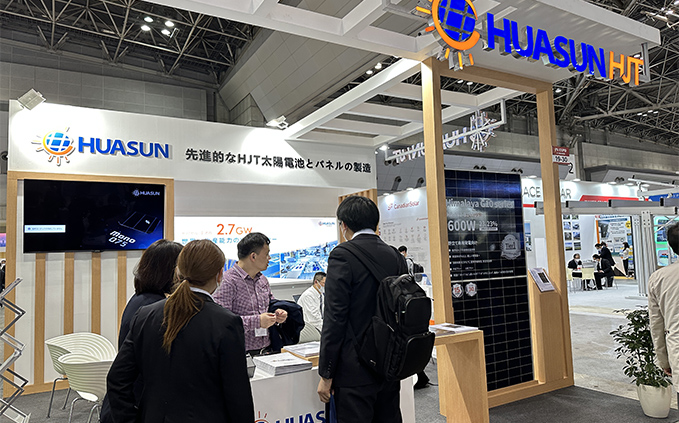 *Double-sided micro-crystalline is to replace the amorphous silicon thin film layer with a micro-crystalline thin film layer. By crystallizing the doped layer, the excellent passivation performance of amorphous silicon is retained, while the problem of parasitic light absorption is solved, which result in the improvement of the optical efficiency of the HJT cell and the short-circuit current Isc increases in turn. In this way, the conversion efficiency of HJT cells can be increased by more than 0.5%.
In 2022, the maximum efficiency of double-sided micro-crystalline HJT cells in the laboratory has reached 26.81% and adopting double-sided micro-crystalline technology in the mass production represents that it has officially entered into HJT 3.0 era.