The Reliable PV Module Design Conference on October 26 was successfully hosted by TaiyangNews. The webinar was focusing on How to Ensure a Solar Panel's High Performance for Decades. Christian Comes, our Director of Business Development Europe delivered a keynote speech on Designing HJT Modules for Various Applications.
As PV module technology keep advancing and power & efficiency was increasing, reliability is becoming an essential factor determining the market popularity of PV modules. Christian pointed out that PV modules are typically designed for a lifespan of 25 - 30 years. These modules are exposed to various hash weather phenomena, such as high temperature, typhoon, hail, snow, etc. Hence, ensuring reliability becomes a critical factor in the PV products design.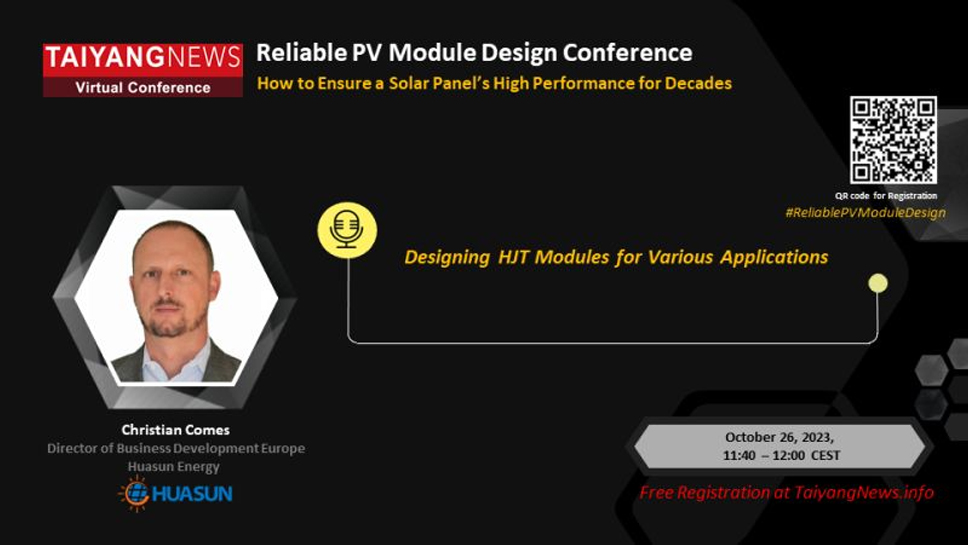 To enhance module's reliability, Huasun's Himalaya series high-efficiency HJT solar modules achieved several key advancements. In cell manufacturing sector, Huasun utilizes a half-cell cutting technique to prevent mechanical damage to enhance cell efficiency. In module encapsulation sector, Huasun introduces processes such as PIB sealing, light conversion film, and gap-filling reflective film to ensure modules have superior weather resistance and high reliability in harsh environmental conditions.
Rigorous reliability test is a crucial way to assess module's reliability. Christian pointed out that in PV Evolution Labs (PVEL) PV Module Reliability Scorecard 2023, Huasun's Himalaya G12-132 module successfully passed six demanding tests and ranked NO.1 in power generation performance. In PVsyst conducted in Las Vegas, Huasun's G12-132 module showed an annual cumulative effective generation duration exceeding other Top Performers by up to 80 hours, yielding 4% increase in annual power output. This outstanding performance underscores its role as a frontrunner in power generation capability.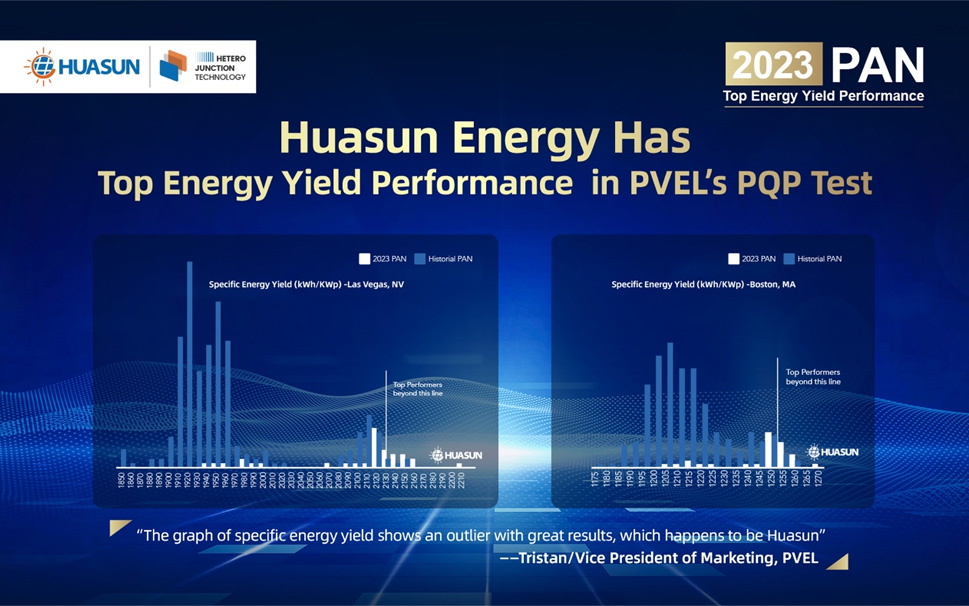 In terms of product quality and risk assessment, Huasun is the first PV company to purchase insurance for HJT modules collaborating with PING AN Insurance of China (PING AN) and Ariel Re Lloyd's of London (Ariel Re) to provide dual-quality assurance services. Notably, 450W G10-108 module designed for residential rooftops, offering 30-year product process warranty and 30-year linear power warranty, making them an industry leader with a 30+30 product warranty, particularly in Europe and Southeast Asia.
Compared to other N-type technologies, HJT can bring more power generation and investment returns with the same installed capacity. For instance, taking the case of the Zibo, Shandong, China verification site in July and August 2023, HJT modules had a kW power generation capacity of 349.94 (kWh/kWp), while TOPCon modules had a capacity of 338.38 (kWh/kWp). HJT modules exhibited a relative increase in kW power generation capacity of 3.42% over TOPCon, which demonstrates that HJT modules have superior actual power generation capability, effectively guarantying investment returns in 30-year lifecycle.