On Jan. 14, at the collective signing ceremony for major investment promotion projects in 2023 held in Feixi County, Hefei, Anhui province. Huasun and the Feixi County Government formally signed a cooperation agreement to build a 5GW ultra-high-efficient HJT cells and modules manufacturing base in Feixi. Leaders concerned from Hefei City and Feixi County attended and witnessed the signing ceremony together.
Zhou Dan, CEO of Anhui Huasun Energy Co., Ltd., said, in recent years, Hefei has been active in developing the green energy industry and the agglomeration effect of the PV industry is quite remarkable. The superior business environment in Feixi and the strong support from the government have provided Huasun with great confidence in the investment. In the future, Huasun will strictly follow the agreement to accelerate the project construction and ensure that all tasks are implemented as scheduled.
As the benchmark of Huasun HJT 3.0 factory, we will build a modern factory in Feixi which has the largest production capacity, optimized process, most advanced technology, highest degree of automation and best cost-effect in HJT industry. It is believed that the factory will definitely become a lighthouse in the HJT industry globally and will also become a milestone for HJT to surpass PERC and TOPCON in an all-round way. said Zhou Dan.
The ultra-high-efficient HJT solar cells and modules project in Feixi is Huasun's third production base built outside Xuancheng, the headquarters of Huausn. The planned land area of the project is 0.27 square kilometers with a total investment of about 739.5 million US dollars. The production capacity of the factory is designed to reach 5GW and will mainly produce bifacial micro-crystalline ultra-high-efficient HJT cells and bifacial panels. After completing construction and realizing mass production, the factory is expected to achieve an annual output of 1.35 billion dollars.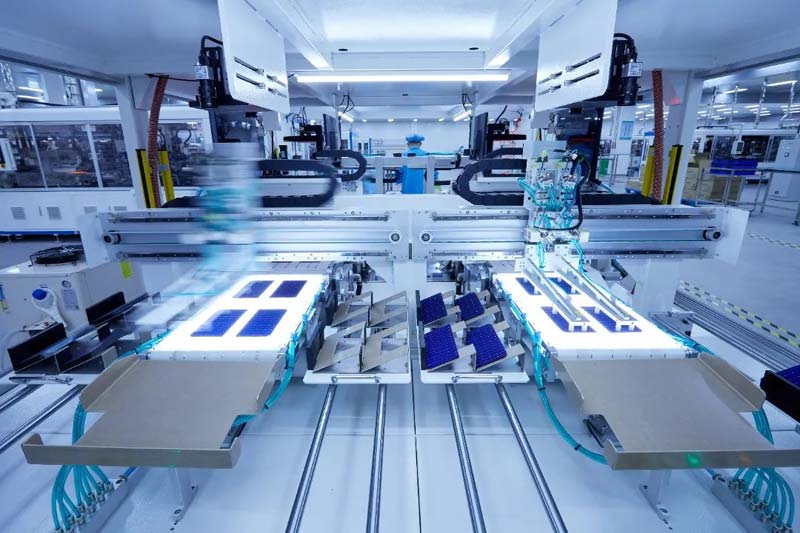 Along the path of Xuancheng - Anhui - China - the World, Huasun is thriving. At present, the project construction and production of Huasun's bases in Xuancheng, Dali and Wuxi are all processing as planned: the production equipment has been moved in Xuancheng Phase III plant and Phase IV has ready started construction as well. In Dali, equipment is about to be moved in and the production base in Wuxi has started to construct too. This manufaturing base in Hefei will enter into a rapid construction stage immediately after contract signing. By the end of 2023, Huasun will be the First enterprise which has an effective production capacity exceeding 10GW of HJT modules, leading the development of HJT to enter a new era!