While the factory phase 2 is about to putting into full operation, HuaSun HJT module efficiency reached a new high!
Recently, Huasun's M6-144 single-sided microcrystalline high-efficiency HJT module has been certified with the output power of 500.7W and module efficiency over 23% by TÜV SÜD. It not only ranked as the current highest power and best efficiency module in this type on the market, but also broke the HJT module efficiency record of 22.7% created by Huasun itself in 2021.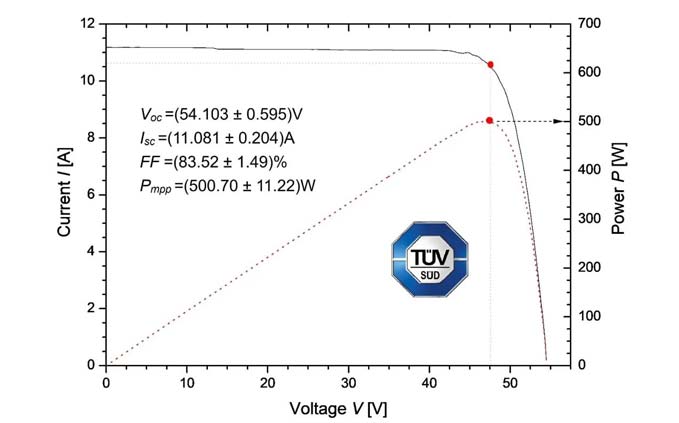 By adopting optimized single-sided microcrystalline process onto HJT cell combined with SMBB multi-grid technology, Huasun effectively reduced the power loss and improved module conversion efficiency, and successfully increased module power to over 500W and the module efficiency was raised to 23%, which indicated that micro-crystalline technology has great potential on efficiency improvement. According to Huasun's R&D plan, by further optimizing dual-side micro-crystalline technology in mass production, the average efficiency of HJT cells from prodcution line will soon creat another new breakthrough, and that will be the way for Huasun to show its leading role in HJT technology. In June 2022, Huasun has started the construction of its factory phase3, focusing on double-sided micro-crystalline HJT cell mass production.
Since founded two years ago, Huasun keeps accelerating the efficiency improvement and cost reduction of HJT technology, and promoting HJT's market-oriented application. On Sunday (June 26th), Huasun will hold the prodction commissioning ceremony of 2GW high-efficiency HJT cell and module project in Xuancheng, at which the micro-crystalline HJT cell production line with world's largest capacity will be officially displayed for the first time. Meanwhile, a number of industrial authorities will gather in Xuancheng, analyze the latest progress of HJT all aspects, and discuss the development of HJT industrialization. At the event, 210mm HJT module of Huasun will finally be unveiled, so stay tuned!