It has come to our attention that the global potential installed capacity of offshore photovoltaics projects is about 4,000 GW, with China accounting for 400 GW. Although offshore solar projects are still in their early stages, this market holds promising opportunities for further development. To address the current challenges faced by this field, on May 17th, Huasun Energy officially launched its groundbreaking high-efficient heterojunction (HJT) solar module — V-ocean series, marking a significant milestone.
Building upon its outstanding performance, including high power output, exceptional efficiency, increased bifaciality, low temperature coefficient, and minimal attenuation, Huasun V-ocean series module has undergone further enhancements in structure design, material selection, and system compatibility. These improvements ensure superior power generation and reliable investment returns throughout its 30-year service life.
To withstand high levels of water vapor, salt mist, hot spot shielding, and the turbulent marine environment, the V-ocean series HJT solar modules are designed in double-glass model, and equipped with PIB, a advanced encapsulants, corrosion-resistant coated glasses, and electrophoretic composite frames. These specialized features will enhance the reliability of the solar modules.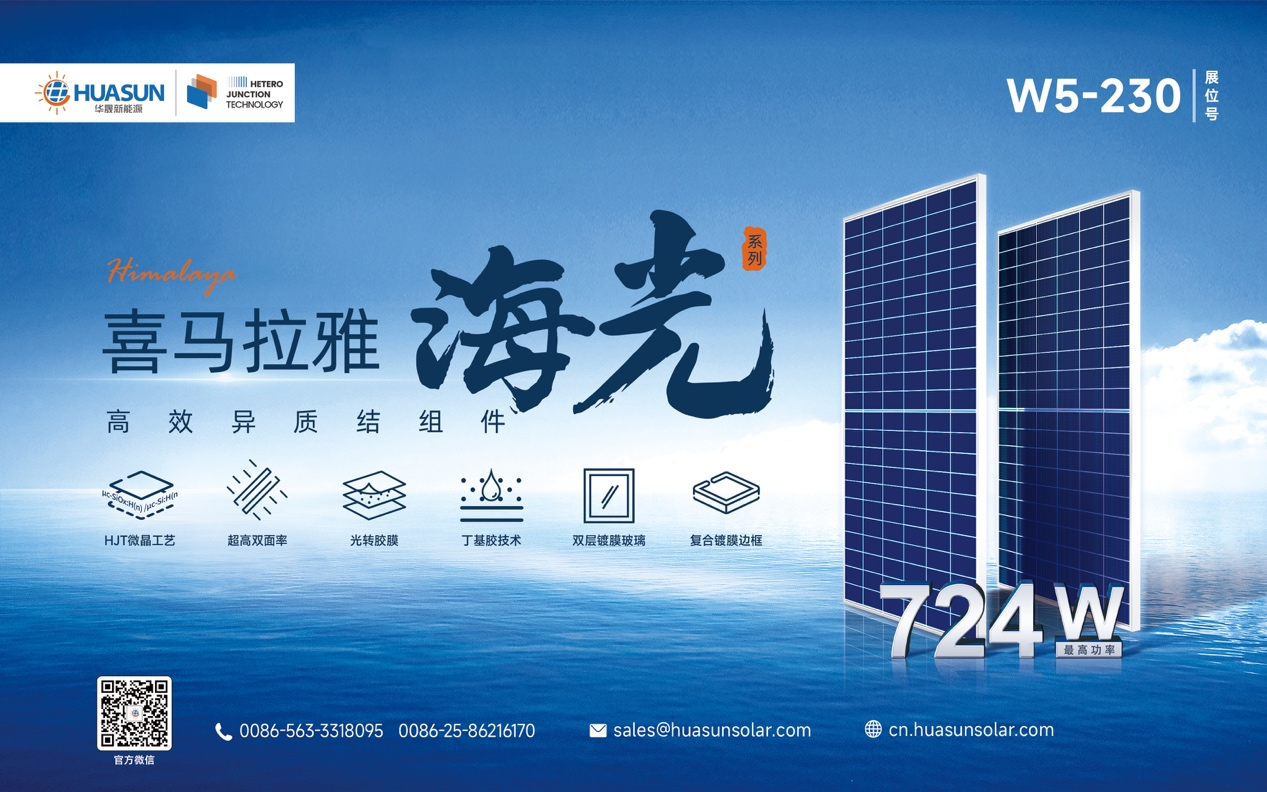 Hidden cracks in modules may occur due to marine storms or wave impacts. However, the V-ocean modules have successfully passed multiple cycles of vibration tests and have demonstrated excellent anti-crack performance in both deterministic and random experiments.
Certified by CPVT and Bureau Veritas and having undergone rigorous testing, including 12-time IEC dynamic load tests and salt mist tests at level 8, the V-ocean modules have proven their ability to withstand the challenging marine environment.
While ensuring high reliability, the V-ocean module boasts a maximum power output of 720W. It brings significant cost savings in terms of transportation, installation, and electrical connections. This is particularly advantageous for offshore photovoltaic projects where construction costs are considerably higher than ground power stations. The V-ocean module can reduce structure system costs by 10% and improve sea area utilization by 8%, making it a highly cost-effective solution.
Huasun V-ocean series high-efficient HJT module is specifically designed to meet the demands of offshore solar installations. It represents a cutting-edge and cost-effective solar product. According to theoretical calculations, when compared to a PERC module with the same size, an offshore project equipped with V-ocean series 700W HJT modules can achieve an annual power gain increase of 6.9%. This results in a 7% reduction in balance of system (BOS) costs and levelized cost of electricity (LCOE), leading to a 30% increase in internal rate of return (IRR).