The REI (Renewable Energy India) Expo took place on October 4 at the Greater Noida Exhibition Centre in New Delhi. Professionals in the fields of solar, wind and other renewables from India and around the globe assembled to celebrate the most powerful international green energy event in India. As the world's largest provider of heterojunction (HJT) solar products, Huasun Energy displayed high-efficiency HJT photovoltaic modules, cells and wafers of Himalaya G10 and G12 Series at the show and triggered a warm response from the visitors.
HJT - Leading the New Photovoltaic Era
India has made significant progress in its pursuit of renewable energy goals, as it reached a noteworthy milestone of 71.61 GW of installed solar energy capacity as of 31 August 2023. At a time when India is striding forward towards the ambitious goal set by the government of achieving 500GW of renewable energy installed capacity by 2030, Huasun's HJT technology is expected to lead the country's photovoltaic market to a new stage.

With the advantages of 'four highs' (high efficiency, high power, high bifaciality and high reliability) and 'four lows' (low temperature coefficient, low LID, low PID and low carbon emissions), the Huasun Himalaya modules are perfect for a variety of solar applications. For example, the flagship product Himalaya G12-132 HJT module showcased at the expo, is made of bifacial microcrystalline heterojunction cells and encapsulated with PID and light conversion film, enabling it to deliver stable power output over its entire life cycle. As a result, the module could bring lower LCOE and higher energy yield to the large-scale utility solar power projects, which account for the majority of India's installed PV capacity.
Certified by TÜV SÜD, an authoritative third-party testing and certification institution, the power of Huasun Himalaya G12-132 HJT solar module has reached 744.43W, with a conversion efficiency of 23.96%. With its record-breaking module power and efficiency, G12-132 module has won high attention and recognition from many professional visitors on site.
Advantages of HJT Solar Cells & Modules
Meanwhile, India has great potential in the huge demand of PV cells. Huasun Himalaya G12-20BB HJT cells, which contribute significantly to the record-breaking efficiency and power of G12-132 modules were also introduced at the expo. Low-temperature silver paste with high-density fine busbar printing technology has been applied in the solar cell production. The average mass-production efficiency of the G12-20BB cells has lately been increased up to 26.2% at the Huasun Xuancheng Phase IV HJT Cell Project, which strongly supports the achievement of higher performance in terms of both efficiency and power output of the modules.

In addition, the Himalaya G10 Series modules and cells presented at REI Expo were also show stoppers. As a milestone product that marks the 3.0 era of HJT, Himalaya G10 Series consists of 182mm half-cut cells with gettering and double-sided microcrystalline process and small chamfer design, which maximizes the cell efficiency and module power.
We have also seen rapid development in the Indian rooftop PV market, and users are increasingly demanding higher power module products. Huasun G10-108 module is mainly targeted at the Residential solar market, with a maximum output power of 450W, which is 40W higher than the mainstream maximum power of other modules of the same version, and the average daily power generation gain reaches 6%; G10-144 module is designed especially for the Commercial & Industrial and Utility solar power projects, with a maximum output power of 600W, and maximum conversion efficiency of 23.23%, which is the highest power module of the same version in the market.
Beyond Imagination, HJT Blossoms in South Asia
"South Asian market shows significant development opportunities with conducive policies, constantly increasing demand and growing interests in the futuristic technologies like HJT." Mr. Abhishek Kaushal, Director South Asia of Huasun Energy expressed his confidence in HJT for the local market while talking with the visitors at REI.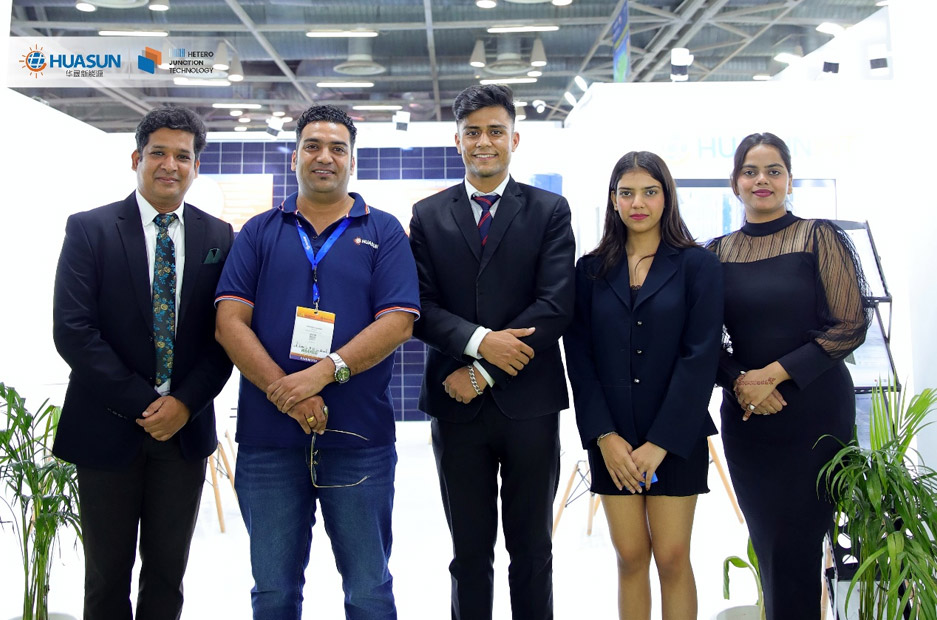 "Huasun Energy has been continuously listed on the BloombergNEF Tier 1 PV Module Maker List due to the excellent product performance, reliable brand credibility, and strong financing capability. We have already reached 10GW production capacity of both HJT cells and modules and will reach 20GW production by 2023E. I believe that the South Asian region will contribute heavily in consumption of our annual capacities. India is already showing very positive response and acceptance of our HJT products. We shall be having a decent share of the total production for the South Asian Region very soon."