Tayyab Group of Industries (TGOIs) signed a Memorandum of Understanding (MOU) with Anhui Huasun Energy Co., Ltd (Huasun) and the EPC contractor Enervetic Technologies Pvt Ltd. of E-Group of Companies for its 20MWp solar power plant on September 16th at its head office in Faisalabad, Punjab Pakistan. Mr. Mian Tariq, Director/Owner of TGOIs, Mr. Rana Farhan, Director Pakistan & Middle East of Huasun Energy, Mr. Engr. Ehsan Ali, CEO of Enervetic Technologies and other team members attended this event.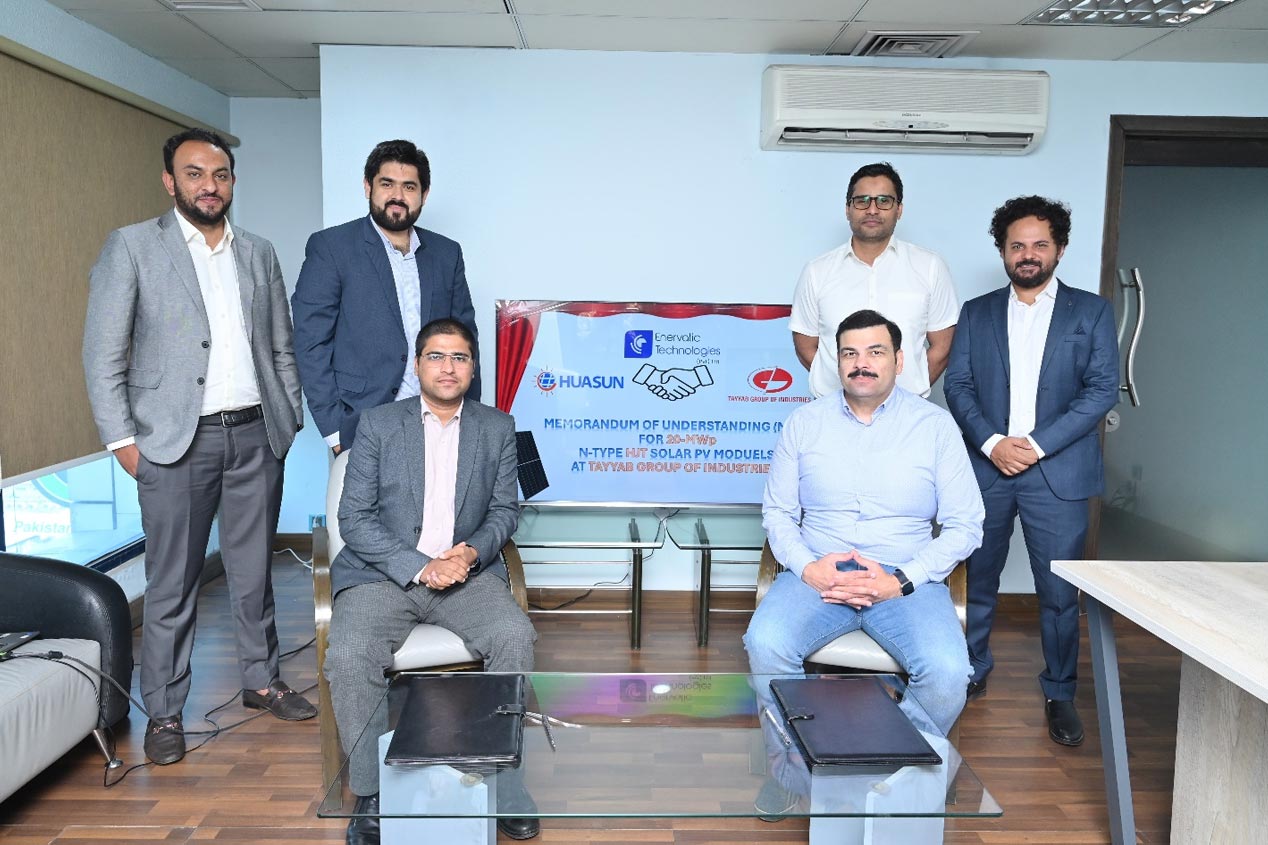 As a well reputed group in Pakistan, TGOIs is running three textile industries in Faisalabad, four sugar mills and one steel mill in Rahim Yar Khan region. Operating in distinct sectors, TGOIs remains united by a common vision - a commitment to excellence, sustainability, and innovation. With a dynamic team of professionals and a relentless pursuit of growth, TGOIs continues to break new ground and redefine industry standards.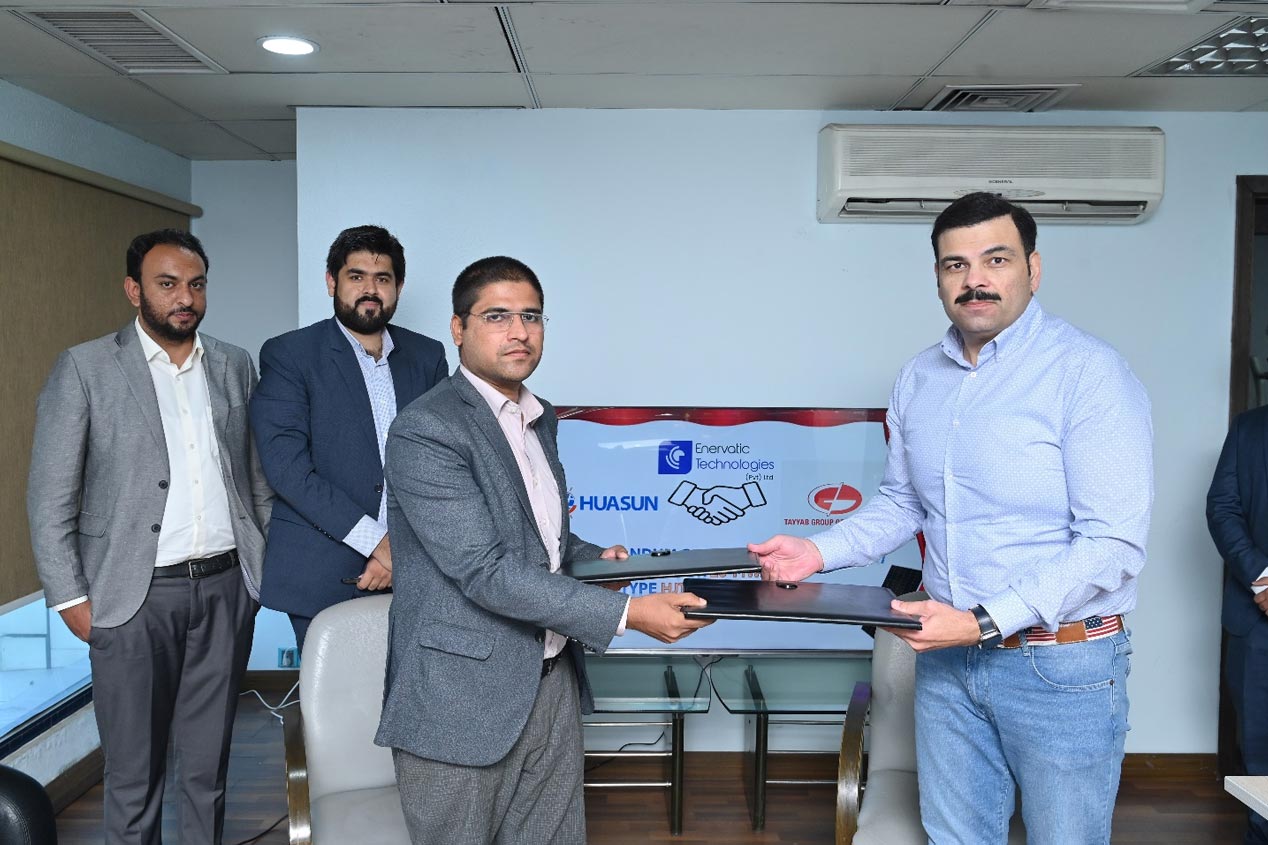 MIAN MUHAMMAD TAYYAB (Chairman & CEO Tayyab Group of Industries) expressed his thoughts at the signing ceremony, "I am honored and excited to share with you a significant milestone in our journey towards a more sustainable and environmentally conscious future. At TGOIs, we have always believed in the power of innovation and the responsibility that comes with it.
Today, I am proud to announce that TGOIs is taking a giant leap forward by partnering with Huasun Energy, the world leading Highly Efficient N-TYPE HJT Solar PV Manufacturer and Large-Scale Solar EPC Expert Enervetic Technologies for our 20-MWp Solar ON- Grid Industrial Power Plant. Through the signing of this MOU, we are embarking on a transformative journey to harness the power of the sun to meet a significant portion of our energy needs. Our solar projects will not only reduce our reliance on conventional energy sources but also contribute to a greener and more sustainable future. This initiative aligns perfectly with our long-standing commitment to environmental responsibility and corporate citizenship. This milestone would not have been possible without the dedication and hard work of our team, our partners, and the unwavering support of our stakeholders. We are grateful for the trust you have placed in us, and we are committed to delivering on our promise of a sustainable future. Lastly, I want to emphasize that this MOU signing is just the beginning of an exciting journey. We are determined to lead by example and set new standards for sustainability in our industries. Together, we will create a brighter, cleaner, and more prosperous future for generations to come.
Thank you, Huasun Energy and E-Group, for offering such highly efficient N-TYPE HJT Technology to Tayyab Group, and to Pakistan."
EHSAN ALI (Founder & CEO EGROUP- EPC) says, we E- Group is proud to join hands with Huasun Energy who is a leading Tier-1 company in cutting-edge N-TYPE HJT technology. for deployment of highly efficient modules in Pakistan. We have always been committed to pushing the boundaries of innovation, and our latest achievement is no exception. Thanks to Huasun Energy to produce a unique design, N-TYPE HJT technology which is exceptionally durable. It is less prone to degradation over time, ensuring your solar panels continue to perform optimally for decades. This longevity not only reduces maintenance costs but also contributes to a more sustainable energy landscape. N-TYPE HJT panels also offer a sleek and aesthetically pleasing design. The minimalist appearance of the modules makes them an excellent choice for residential and commercial installations where aesthetics matter.
E-Group is turnkey solution provider of Solar PV Projects all over Pakistan. we deliver safe & stable products & solutions by taking a leading role throughout the entirety of the projects in which it participates. E-Group also provides consultancy services for large scale IPPs in collaboration with our international partners/Consultants for carrying out all activities from LOI (Letter of Intent) stage up till the Plant Operation & Maintenance stage.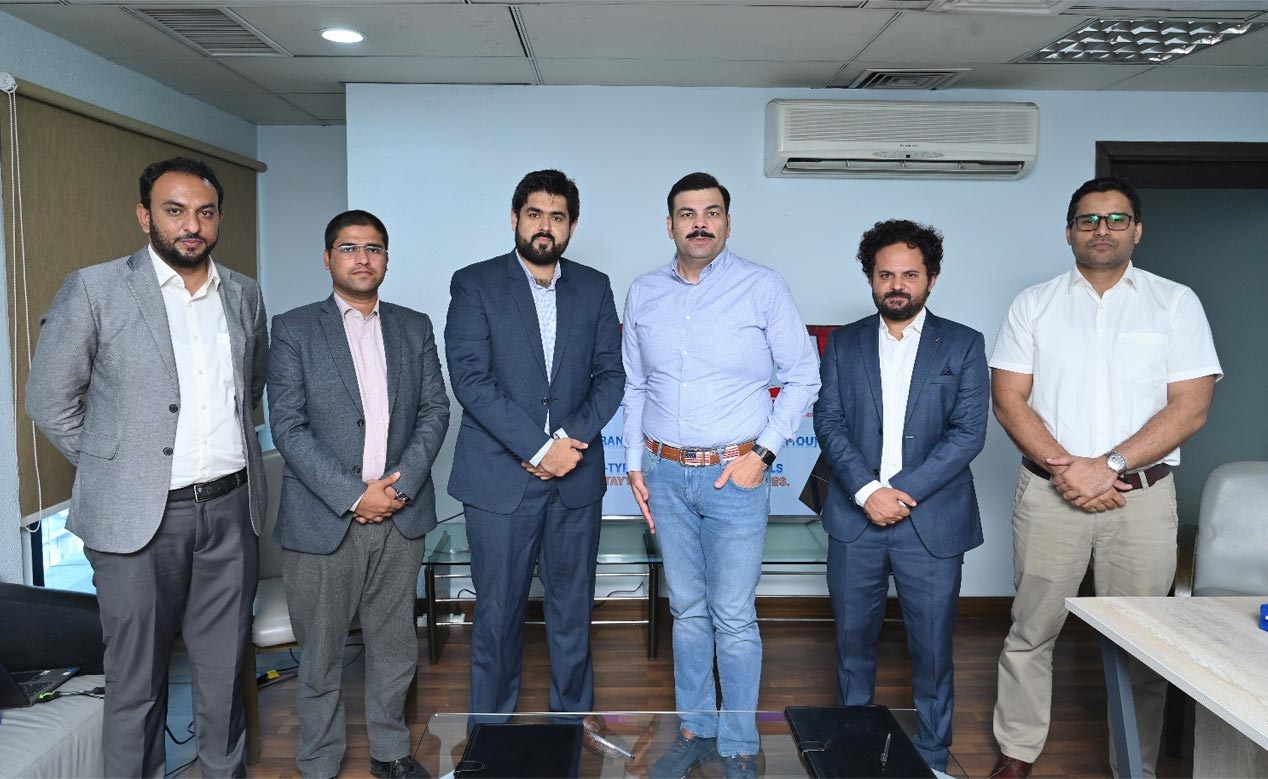 RANA FARHAN (Director-Pak & Middle East- HUASUN) expressed closing remarks, "we are excited to join hands with Tayyab Group and E group for the development of 20MWp industrial projects. Our partnership for Industrial Mega Scale Projects in Pakistan is a testament to our unwavering dedication to providing our customers with the best solar solutions. Pakistan is very rich and potential region for renewable energy sources, for our pursuit of a sustainable future, renewable energy sources have become the beacon of hope.
As we continue our journey towards a greener future, Huasun Energy invites the industry to join us in embracing the power of N-TYPE HJT technology. We see a future where clean and abundant energy powers our world, where sustainability is at the core of everything we do. As a champion of sustainability, Huasun Energy is proud to emphasize that N-TYPE HJT technology aligns perfectly with our commitment to reducing our carbon footprint with higher efficiency and longer lifespan, these panels contribute to a lower environmental impact throughout their lifecycle."