On May 24th, SNEC 2023, a renowned international solar photovoltaic exhibition, was successfully held in Shanghai, China. At this fair, Huasun displayed the brand-new V-ocean series solar modules, ultra-high bifaciality solar modules, and 0BB solar modules, as well as G10 full-size series high-efficient HJT modules, sharing cutting-edge technologies with global partners and gaining more attention from the solar photovoltaic industry.
The Himalaya V-ocean series high-power HJT solar modules, incorporating light conversion film encapsulation and PIB sealing, are equipped with composite coating materials and an IP68 waterproof junction box. These modules have successfully undergone rigorous testing, including the 12-time IEC dynamic load test and the industry's most stringent IEC 61701 salt-mist test at level 8. With exceptional waterproofing capabilities, they effectively withstand wind and waves on the sea surface while safeguarding against seawater corrosion, ensuring heightened reliability. Additionally, the V-ocean series has obtained the "Marine Environment Weather Resistance Certification" from Bureau Veritas and the "Preferred Certification for Differential Application Weather Resistance" from CPVT, making them specifically tailored for demanding marine environments.
The Himalaya ultra-high bifaciality HJT solar modules are specifically designed for vertical installation scenarios, offering a remarkable 80% reduction in land use while maximizing power generation. With its advanced structure system, Huasun's ultra-high bifaciality modules achieve an impressive bifaciality rate of up to 97%, resulting in a significant increase in power generation of over 10% compared to conventional PERC modules. Furthermore, vertical installation minimizes snow and dust accumulation, reducing the frequency of operation and maintenance, thereby lowering overall costs.
The Himalaya 0BB HJT solar modules incorporate a busbar-free design at the cell and utilize a finer ribbon design at the module. This innovative approach offers several advantages. Firstly, it reduces the amount of silver paste required, leading to cost savings. Secondly, it shortens the current transportation distance, resulting in improved module power while maintaining excellent electrical conductivity. Combining the 0BB process with silver-clad copper, Huasun achieves significant cost reduction in its HJT solar modules.
The Himalaya G10 series high-efficient HJT solar modules are made of 182mm HJT solar cells that adopt double-sided micro-crystalline technology, leading the heterojunction industry into 3.0 era. Himalaya G10-108 module is an ideal choice for residential rooftop projects. The power coverage range is 420W-450W with a maximum conversion efficiency of 23.04%. While the power coverage range of G10-144 is 580W-600W, with the maximum efficiency of 23.23%, quite suitable for commercial rooftops and utility projects, beating modules of other technology in the same size.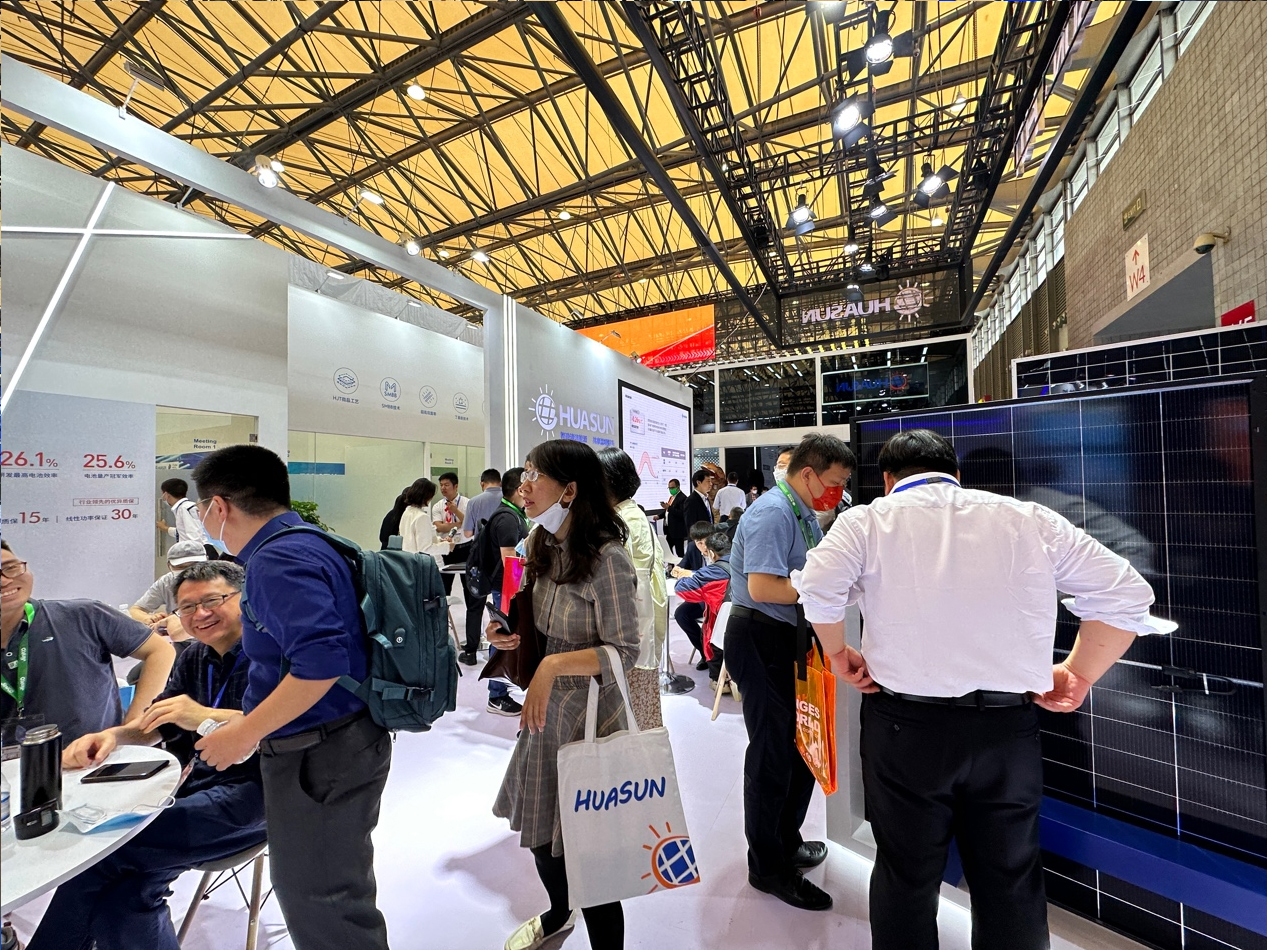 At SNEC 2023, Huasun also solidified its business partnerships within the photovoltaic industry, and signed framework purchase agreements with several companies, such as HD Hyundai Energy Solutions, Sunket New Energy and AlphaESS, to provide high-efficient HJT solar module products. Looking ahead, Huasun is poised to lead the new photovoltaic era by focusing on continuous improvement in product efficiency, ensuring stable power generation, and offering comprehensive reinsurance services. With a dedication to technological advancement and customer satisfaction, Huasun is well-positioned to drive the development of the photovoltaic industry and contribute to a sustainable future.